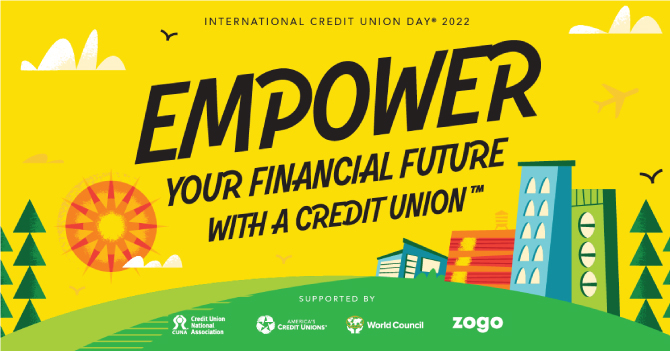 What is International Credit Union (ICU) Day?
ICU day has been celebrated in October since 1948 and was designed to create awareness and celebrate how credit unions change their members' lives worldwide. This year marks the 74th anniversary of ICU Day. It is the one day a year the entire movement takes the time to educate their members and communities about credit unions and what makes them so unique. This year's theme is: "Empower Your Financial Future with a Credit Union." It speaks to how there are still 1.4 billion people globally who are unbanked and how credit unions genuinely have a great business model to empower their financial futures. Due to that type of commitment to members and communities across the world, we have a global credit union movement joined by more than 375 million members in 118 countries who also recognize and celebrate the credit union difference!
What makes credit unions unique?
Credit unions are unique in their business model. They are not-for-profit financial cooperatives that provide a safe, convenient place for members to save money and access loans and other financial services at reasonable rates. They are equal ownership meaning they are democratically controlled, member-owned, and member-operated. Each member has equal ownership and one vote regardless of how much money they have in savings.
Credit unions exist to serve their members, not to make a profit. Every member counts. This "people-first" philosophy impels credit unions and their employees to get involved in their community and support worthwhile causes. Credit Unions are volunteer-based. Therefore are governed by a volunteer board of directors elected by and from the credit union's membership.
Credit unions put financial education first, creating opportunities for their members and the public to help everyone become better-educated consumers of financial services.
Most importantly, credit unions have received positive press for being trustworthy and resilient institutions. Credit union members worldwide can be proud of these accomplishments and assured that their money is safe at the credit union.
How are Credit Unions helping?
Credit unions are constantly out in the community helping members and nonmembers. Community outreach is all about expanding services to underserved areas to give members an opportunity to improve their lives. Credit unions are always willing to help out in communities through donations, scholarships, or by providing financial education.

Credit Unions are dedicated to community commitment and trustworthy service.
We are more like a family than just your banking service. Join the USALLIANCE Family today!