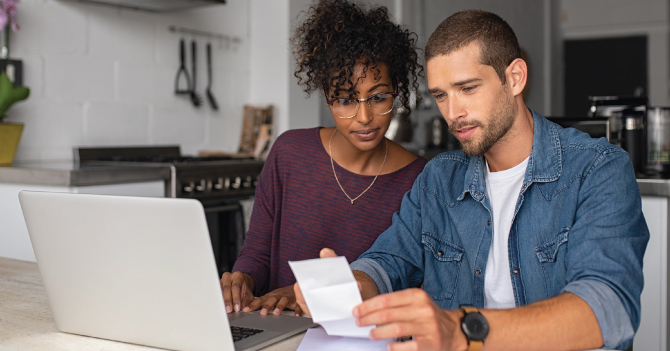 The most obvious things in life are often overlooked, and your checking account may be one of them. Most people hardly think about this important account and how to manage it effectively. The first step to managing your cash flow is setting up an account, such as a checking account, where your monthly income can go first. Then you can disperse your funds for your necessities.
Here's all you need to know about checking accounts:
What Is a Checking Account?
Your checking account at USALLIANCE offers easy and convenient access to your funds with no minimum balance or maintenance fees required. Like most financial institutions, we also allow unlimited monthly withdrawals and deposits. We offer unique features such as a free monthly credit score and early pay of up to 2 days1.
Checking accounts are designed to be used for everyday expenses. You can access the funds in your account via debit card, paper check, ATM or in-branch withdrawals, online transfer, or online banking.
Making transactions using the connected debit card or through a linked online account will automatically use the available balance in your account and lower the balance appropriately.
A paper check is also linked directly to your account but will generally take up to two business days to clear. It's vital to ensure there are enough funds in your account to cover a purchase before paying with a check.
Many banks charge a monthly maintenance fee for checking accounts. Fortunately, as a credit union member, you never have to worry about steep fees. USALLIANCE checking accounts have no set-up or maintenance fees.
With a checking account, you have the security of the National Credit Union Administration. The NCUA federally insures up to $250,000 funds in your checking account at USALLIANCE to offer you complete protection for your money.
Managing Your Checking Account
Managing a checking account is as simple as 1-2-3:
1. Know your balance
It's important to know how much is in your account at all times. This way, you can avoid an overdrawn account or having insufficient funds to cover your purchases. Knowing how much money you have will also help you stick to a budget and spend within your means. You can check your balance through online banking or the USALLIANCE mobile app.
2. Automate your finances
You can set up direct deposit to have your paycheck land right in your account and get paid up to two days early with a USALLIANCE MyLife Checking account. Also, make your life a little easier by setting up automatic bill payments through your checking account. You won't miss the hassle of paying your monthly bills and will never be late for payment again. As a bonus, you'll save on the processing fee often charged on bill payments made via credit card. In addition to paying your bills automatically, think about setting up monthly transfers from your checking account to savings, so you never forget to put money into savings.
3. Keep your account well-funded, but not overfunded
Financial experts recommend keeping one to two months' worth of living expenses in your checking account at all times. This way, you'll always have enough funds to cover your transactions without fear of your account being overdrawn. You'll also be able to cover the occasional pre-authorization hold that a merchant may place on your debit card transaction until it clears.
It's equally important not to keep too much money in your checking account. Once you've reached that sweet spot of two months of living expenses, keeping your savings in an account or an investment that offers a higher APY*, such as an HDSA or Certificate account, is best.
Checking accounts offer convenience and accessibility. Now that you've learned all about these often overlooked accounts let this financial tool help you manage your finances in the most effective way possible.
1 Early Pay Direct Deposit is a benefit provided by USALLIANCE Financial and is not guaranteed; early deposit may be up to two days early of your actual payment settlement day but is contingent upon the receipt and successful processing of the deposit from your payor/employer. USALLIANCE Financial does not have control over when your funds are received from or sent by your payor/employer. For questions regarding your payment date, please speak with your payor/employer.