---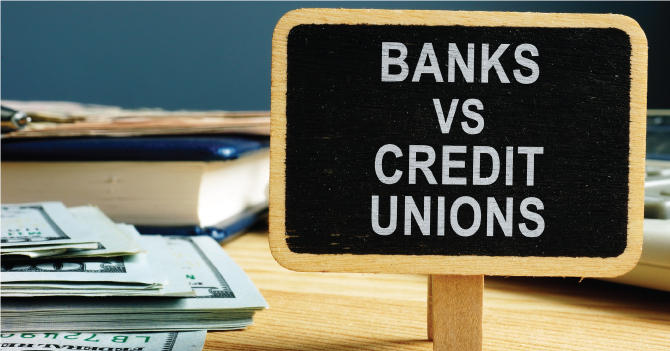 Credit unions and banks have many similarities, but it's the differences that really matter. Here are a few benefits to choosing a Credit Union over a Bank that you might not have considered.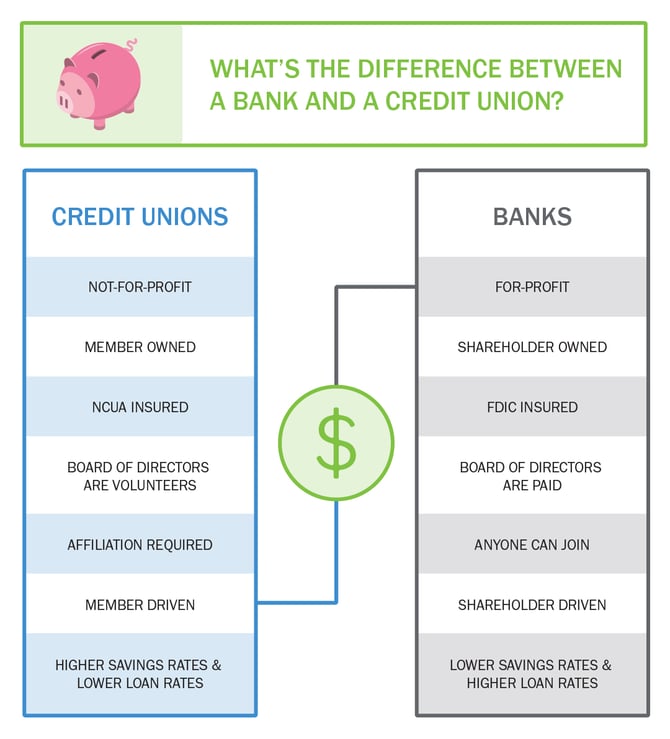 Business Structure
A credit union, like USALLIANCE, is structured around a not-for-profit model. Meaning, after expenses and reserves are set aside, profits are distributed back to members. These come in the form of higher returns and lower rates and fees, as well as free or low-cost services.
A bank is a business that earns a profit for shareholders through high rates and fees charged to customers.
Ownership
Credit unions are member-owned and member-operated. As a member of a Credit Union, you're also an owner/shareholder. Without outside shareholders or investors trying to maximize profits at the expense of our members, we are able to conduct business based on what we believe is in the best interest of our members. That means, we're able to pay out more interest on savings accounts, lower our rates on our loan products, and offer products you won't find at your typical bank - like a truly free, no-fee checking account.
Shareholders own banks. They buy stock in the bank and expect make a profit on their investment through the fees and rates customers pay.
Deposit Insurance
Credit unions are insured by the National Credit Union Administration (NCUA) up to $250,000. It's an independent federal agency that keeps your money safe.
Banks are insured by the Federal Deposit Insurance Corporation (FDIC) up to $250,000. It's also an independent federal agency that keeps your money safe.
Membership
Credit unions are community based. In order to be a member, you must meet an eligibility requirement such as employment or education at certain companies, school or organizations; live, work, or worship in certain geological locations; or be (or become) a member or certain charitable organizations.
Anyone can open an account at a bank. They are viewed as customers and don't need affiliation or membership. When it comes to being a shareholder, anyone can invest—shareholders don't need to have an affiliation or even an account with the bank.
Locations
Smaller size means better, more personalized service. When it comes to reach, while we may not have as many branches or ATMs in your local area as those corporate banks, USALLIANCE, like many other Credit Unions, participates in ATM and brand-sharing networks - so you members can do their banking with us even if there isn't a physical branch nearby. Members can also do much of their banking online or over our mobile app, a very popular feature.
Banks usually have a greater reach and can offer more locations and ATMs. Large banks can be found in many places, making it convenient for customers to travel. Access to bank services is usually greater in terms of hours of locations, including evenings and weekends, as well as hours of customer support.
---
When it comes to choosing where to manage your money, the choice between a credit union and bank is up to you. Here at USALLIANCE, we pride ourselves on being a credit union our members love. We have better rates, fewer fees, the same deposit insurance coverage, and superior service.