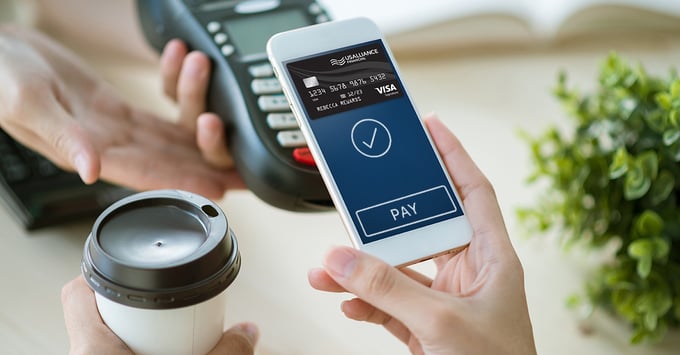 You already carry your phone everywhere, so why not turn it into your wallet too? Go digital and ditch your physical wallet for good—everything you need to pay can be stored right on your mobile device. Between Mobile Wallets and third-party apps like PayPal, you can modernize your wallet in a matter of minutes.
Digitize Your Wallet
If you have a smartphone, you likely already have a mobile wallet application such as Apple Pay® or Google Pay™ preloaded onto your device. For assistance with getting set up on your device visit Everything Your Need to Know About Mobile Wallets.
Once all your Credit and/or Debit Cards are loaded into your Mobile Wallet, congratulations, you have officially modernized your wallet! It's time to start reaping the benefits:
1. Contactless Payment
Fewer things to touch, fewer germs to come into contact with. Mobile Wallets use RFID technology and near-field communication to transfer your payment information from your device to the point-of-sale terminal. No pin pads, vendor screens, styluses, or cards to touch.
2. Ditch the Wallet…Maybe Even for Good!
Your phone can store all of your credit, debit and gift cards in one organized place without the bulk of a wallet. You can also store retailer reward points, boarding passes, tickets, and coupons in your Mobile Wallet. No pockets? Going minimal? No problem.
3. A Cardless Convenience
Your phone is always at your fingertips and is more lightweight and streamlined than a physical wallet. Mobile Wallets are accepted at countless businesses ranging from retailers to gas stations and restaurants to transit and many more. Just open the app, select the card you wish to use to pay, and hover your device over the PIN pad at checkout.
4. Your Wallet Gets Lost or Stolen…Now What?
Unlike a physical wallet, If your phone goes missing, you can locate, lock, or wipe your data instantly. You also won't have to go through the process of cancelling and waiting for a replacement to arrive for everything you lost. Mobile Wallets also typically require a passcode, fingerprint scan, or facial recognition before making a purchase, so only you can spend your hard-earned money.
5. Forgot Your Phone at Home? No Worries
Mobile wallet technology is continuously advancing. In most circumstances, several mobile wallet applications can sync across all of your devices such as a smart watch, tablet, or iPad. So, if you forget your phone or your hands are full, you can pay with a variety of different options.
Modernize Your Wallet with PayPal
You may be familiar with PayPal, a third-party mobile application and online platform that allows you to receive, spend, and send your money in a safe and secure way. To get started, all you need to do is connect your PayPal account to a Checking Account, Debit Card, or Credit Card. Once you've linked your card to your account, you can further digitize your wallet by taking advantage of all that PayPal has to offer:
1. Shop Online, Safely
When shopping online at one of the millions of PayPal-accepted stores, choose PayPal at checkout and you can skip entering in all of your financial information when checking out. Just tap and await your package! This is a great option for online shopping because PayPal never shares your card information with the merchant, reducing the risk of fraud.
2. Shopping at Physical Stores, Made Simple
When you're shopping in person, Android users can connect their PayPal account to Google Pay as an additional option to their cards. Another option for iPhone and Android users alike can download the free PayPal app and use a QR code to pay. Just open the app, select "Scan/Pay" to scan the seller's PayPal QR code, enter the amount, and tap "Send." This is another touch-free payment method becoming more popular due to the COVID-19 pandemic.
3. Pay Back (or Get Paid By) Others
Like Venmo, you can securely send and receive money from friends, family, or other PayPal users without sharing any sensitive financial information through unique PayPal.me links. You can do it all with just a few taps through an app on your phone. It's contact-free and rids you of the hassle of splitting bills, carrying cash, or spreading germs.
Separate your payment into 4 biweekly charges
Don't want to pay all at once? Choose "Pay in 4" at online checkout (accepted at any online merchant that offers PayPal as a way to pay) and split your payments into quarters! You'll be charged once every two weeks until your purchase is paid off. As an added bonus, it's interest free and doesn't impact your credit score.
Make the Full Switch to Digital
With the added convenience, security, and contact-free perks of Mobile Wallets and PayPal, it's time to modernize your wallet. All USALLIANCE Financial, Debit and Credit Cards are compatible with a variety of Mobile Wallets—simply link them to whichever type you choose. With PayPal, link your USALLIANCE Debit Card, Credit Card, and Checking Account to get started. Make the most of your mobile device. Go digital, today!