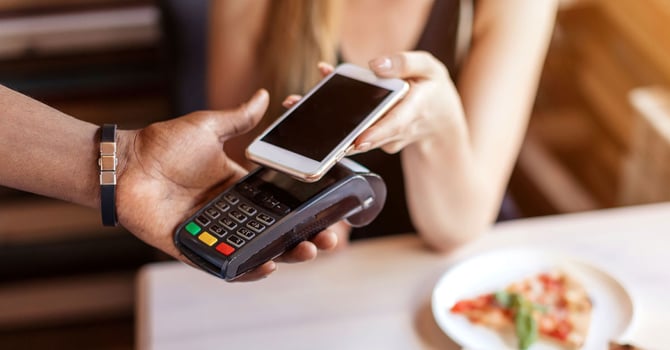 Will that be cash, check, or mobile wallet?
As contactless payment is becoming more and more prevalent, mobile wallets are quickly becoming the payment option of choice for many consumers.
Are you new to the mobile wallet scene? You're in luck - we've gathered some basic information to explain this new way to pay. And don't forget, your USALLIANCE accounts are compatible with Apple Pay®, Google Pay™, Samsung Pay®, and VISA® Check out!1
What is a mobile wallet? A mobile wallet is a way to carry your credit and debit card information in digital form on your smartphone. Essentially, it's a virtual wallet containing your cards in digital form that can be used as a method of payment, similar to using cash or a physical card when checking out at participating stores.
So, how do you use it? It might surprise you how simple it is to pay using your mobile wallet. Here's what you do:
Download the mobile wallet of your choice from the app store on your smartphone. If you have an iPhone or Android device, it's more than likely that Apple Pay or Google Pay is pre-loaded onto your device.
Open the app and follow the prompts to add your debit or credit card information. You can add one card or several.
When you are making a purchase at a participating store, open the app and select the card you wish to use to pay and hold your device over the PIN pad.
What else do you need to know?
It's more secure than your wallet. And that's a good thing. These days, many smartphones allow you to locate, lock, or wipe all of your data should your phone ever get lost or stolen. However, if you lose your wallet, you'll never see it (and all of its contents) again.
Additionally, mobile wallets usually require a four-digit passcode, a fingerprint scan, or use the facial scan feature before making a purchase. This makes it more difficult for thieves to steal your hard-earned money.
It's convenient! Most people carry their phone wherever they go, so why not make the most of your phone's capabilities? You can store all of your payment options in one place, without having to worry about carrying all of the physical debit cards, credit cards, gift cards, coupons, etc. This could mean no longer carrying a wallet for some of you! Mobile Wallets are evolving and are not limited to just your mobile device. Many mobile wallets are compatible with smart watches and other devices such as tablets.
It's more than just a wallet. Just like a physical wallet, you can store reward points with your favorite retailers, airline boarding passes, concert tickets, and gift cards. And as an added convenience, your mobile wallet can offer coupons based on your current location.
Are you ready to modernize your wallet?
If you are ready to digitize your wallet, remember that all of the USALLIANCE debit and credit cards are compatible with several mobile wallets! All you have to do is open an account and get started with your mobile wallet today!
1Apple Watch and Apple Pay are registered trademarks of Apple Inc. Google Pay is a trademark of Google Inc. Samsung Pay is a registered trademark of Samsung Electronics Co., Ltd.