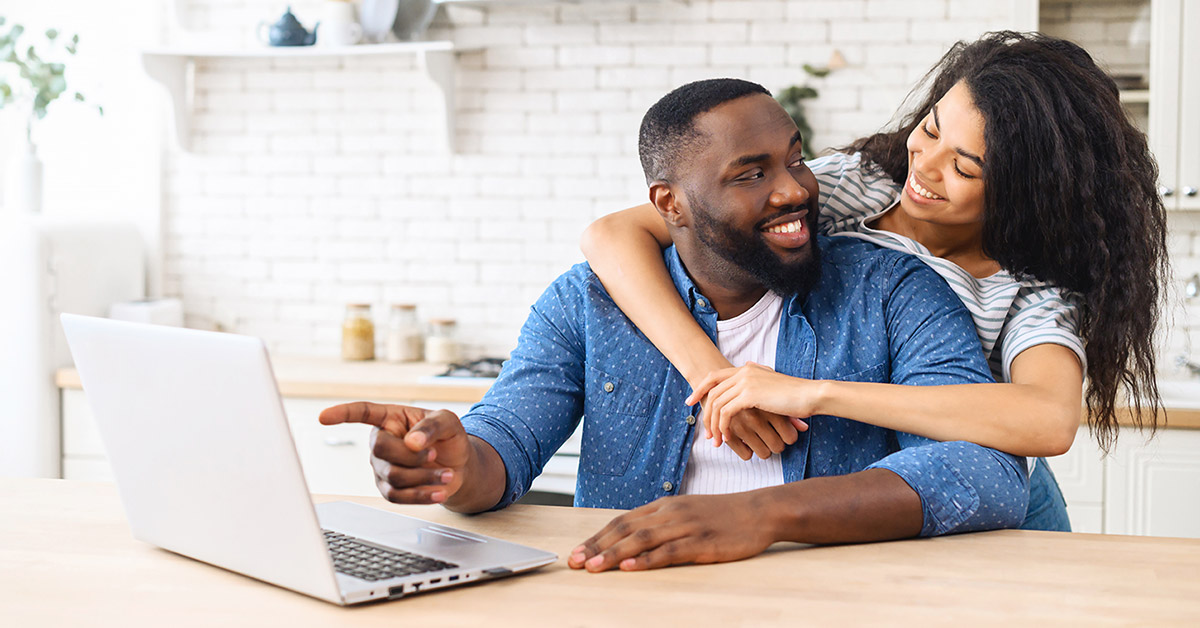 If you've got some money and are considering opening an account at a financial institution, you've made a smart choice! But now you must choose from several different account options available at credit unions and banks and let's face it, that can be overwhelming. Let us help you out.
Some accounts are better for saving up money, and others are for day-to-day purchases. You may find you can earn more interest or grow your money easier with a more sophisticated option, such as a money market account, or maybe you need straightforward access each week to your dollars and cents.
Here at USALLIANCE, we have many account types to choose from to help you personalize your financial journey. Let's take a look at the checking and savings options we offer to see which accounts are right for you.
MyLife Checking is for Movers and Shakers
USALLIANCE's MyLife Checking offers great perks for those that need regular access to their money— to start, how about a free checking account?
With MyLife Checking, you will enjoy these no-cost benefits:
Free debit card—with out-of-network ATM fee reimbursement up to $10 each month
No minimum balance requirements after your first deposit of $1 to open the account
No monthly maintenance fees
Free monthly credit score
Get paid up to two days early when you set up direct deposit*
Forty free checks when you open your account
Should I Open a MyLife Checking Account?
You may not write very many checks anymore, but if you make several transactions throughout the week, use an ATM card frequently, or find yourself hitting the ATM often, a checking account may fit your needs.
You can make cash or check deposits at any of our 5,900+ shared branches, deposit taking ATM's, or set up a direct deposit transfer. Looking to withdraw funds or make a purchase? Visit a branch, any ATM, write a check, or simply use your debit card!
You can manage your checking account via branch visit, online banking, or through the USALLIANCE mobile banking app

MyLife Savings is for Starting Something Big
USALLIANCE's MyLife Savings account is the perfect place to turn your rainy-day fund into a cash stockpile.
Check out these great MyLife Savings account perks:
Interest boost to get you started: at USALLIANCE, you'll earn 2.00% APY on your first $500.
No monthly maintenance fees
No minimum balance requirements
Safe & secure: funds are insured up to $250,000 by the National Credit Union Administration
Should I Open a MyLife Savings Account?
Deposit savings accounts are easy ways to grow money in an interest-bearing account.
Are you planning for college, your first home, or a new car? Maybe you have your eye on an extravagant vacation—you deserve it! Whatever your longer-term financial goals are, a savings account is your first step toward seeing your plans through.

MyLife Money Market: You're Ready for the Next Step
With USALLIANCE's MyLife Money Market account, you will earn more interest as you save. When your account balance grows, so will your interest rate – increasing those dividends.
Benefits of a MyLife Money Market Account:
Dividends paid monthly
24/7 access to your funds
No monthly maintenance fees
No minimum to open
No minimum balance requirement
Should I Open a MyLife Money Market Account?
Money market accounts often offer higher interest rates in exchange for minimum balances and limiting the number of withdrawals you can make, encouraging you to save more.
If you plan on growing some serious savings and are interested in earning higher interest, then a MyLife Money Market account may be right for you!

High Dividend Savings for the High Rollers
If you can maintain a minimum balance, you qualify for a great interest rate with a USALLIANCE High Dividend Savings account. As a credit union, USALLIANCE has the flexibility to offer better rates than the big banks by recalibrating each month to stay competitive.
With a USALLIANCE High Dividend Savings account, you'll enjoy:
Daily compounding interest
No monthly maintenance fees
Federal insurance up to $250,00
$500 minimum balance (to earn dividends)
Should I Open a High Dividend Savings Account?
Who doesn't want more return on their investment? High dividend savings is a great option for those who feel confident keeping a steady cash amount in their accounts while looking to grow their hard-earned cash.

Certificate Accounts for Certified Savings
Certificate Account savings grow fatter. A certificate account or certificate of deposit promises higher interest rates in exchange for leaving money untouched for a pre-selected term of your choosing.
In general, the longer you wait, the better the rate.
We know that sometimes your funds need to be out of sight, out of mind for a while in order to grow. We'll help you pass the time with the following perks:
Choose your desired term, on your own terms
Choose the rate that best fits your financial goals
Interest compounds daily and is credited monthly
Open an account with as little as $500
Should I Open a Certificate Account?
Certificate accounts are a great way to earn high interest, but you must be confident in leaving your money untouched for the agreed-to amount of time. Luckily, at USALLIANCE, we offer terms as little as three-months to get started with low minimum balances across the board.

Looking for Something a Little More... Special?
USALLIANCE has all your financial needs covered with these additional accounts:
Health Savings Account – Make 100% tax-deductible deposits into your Health Savings Account to use for various medical needs, including co-pays, deductibles, dental, and vision, and more. Plus, your balance carries over year-to-year.
Club Account – USALLIANCE Club accounts are designed to help you reach a specific savings goal. Whether you're setting aside funds for taxes, tuition, or vacations, Club Accounts are set up to help you plan and budget your way to your goal.
Business Money Market Account – This option is similar to the MyLife Money Market account, but it's built with businesses in mind. Park your business' money where you can save the most without being locked in!
MyLife Checking for Teens – an account with digital capabilities that keep up with your teen while having just the right amount of adult supervision.
MyLife Savings for Kids – A Savings Account to jumpstart your child's financial journey.