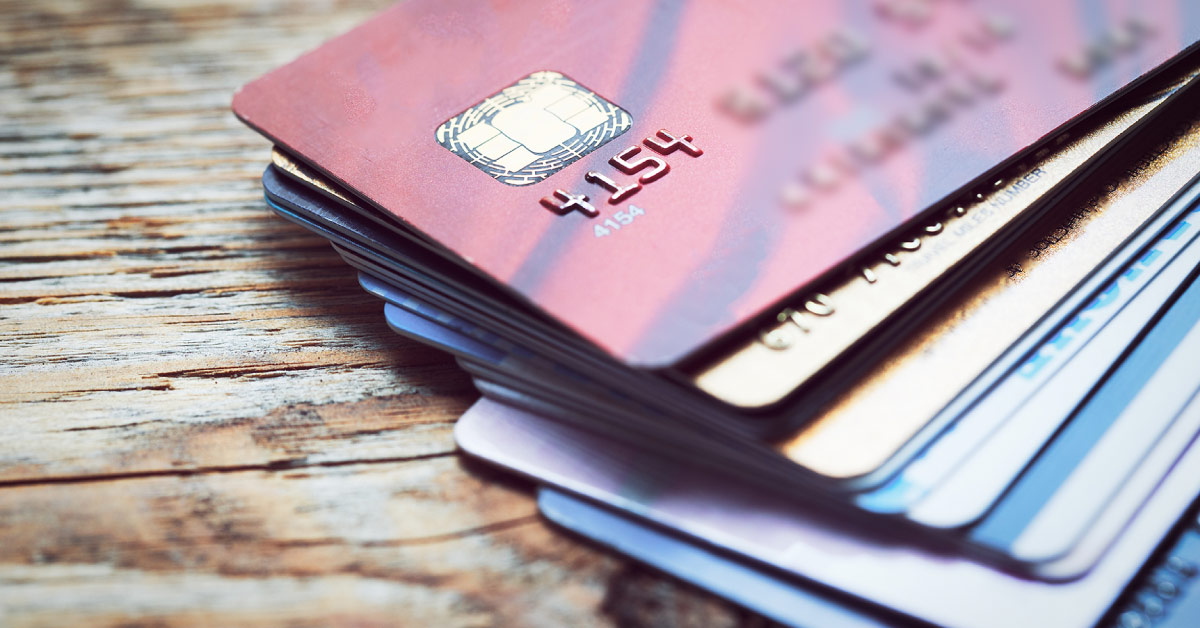 There are millions of credit cards on the market today—you could drive yourself crazy trying to find the perfect card with the best rates, highest rewards, and lowest fees. That said, you shouldn't apply to the first offer you receive in the mail, either. Finding the right credit card is often about compromise: you pick the best features from the options you qualify for, but you have to know what's important to you in order to choose wisely. Answering a few questions about yourself, your credit, and your spending habits before you begin the application process can help you make a better choice down the line.
Know your options. Ask the right questions. Find the right card
First Things First: Check Your Credit Score
Before you dive too deep into the minutia of credit card types and offers, you should check your credit score. Unsurprisingly, the better your credit score, the sweeter the perks you can expect from your credit card. Reach out to your USALLIANCE representative for help with figuring out or monitoring your credit score, or check your score yourself for free at AnnualCreditReport.com.
Your credit score can fall between a range of 300 to 850 and is broken down into the following groupings:
| | |
| --- | --- |
| FICO Score | Grade |
| 800–850 | Exceptional |
| 740–799 | Very Good |
| 670–739 | Good |
| 580–669 | Fair |
| 300–579 | Very Poor |
Generally speaking, you need a FICO score of good credit or above to qualify for a credit card. FICO is the most popular credit scoring model and is used by credit bureaus to gauge your creditworthiness. While most cards require good credit, there are options available to those in the lower end of the credit score spectrum, even for those that need to rebuild or start from scratch.
What Types of Credit Cards Are There?
We all love personalization—from fast-food take-out orders to cell phone case accessories. Credit cards can feel personalized, too—there are rewards for every interest, from travel to electronics to amusement parks. Many retail stores have their own credit card, each promising more cash back, loyalty points, or higher discounts. There are cards for students, small-business owners, and the average everyday person that sees cash as so 20th century.
It's easy to get overwhelmed. But if you take a step back for a moment, you'll realize that many of these credit cards fit into three basic categories:
Secured credit cards: These cards are designed to help you build up your credit score
Standard credit cards: These are regular credit cards, usually with lower interest rates and lower to no annual fees when compared to rewards-based cards.
Rewards cards: These cards earn points, cash, miles, or other rewards the owner can cash in and use./li>
Banks and credit unions calibrate these credit card types by adjusting the interest rate they charge, the fees they impose, and the benefits they offer to give consumers more choice. Let's take a look at what's available with each type of credit card.
What Are Rewards Credit Cards?
Points, miles, cash back, and more! Rewards-based credit cards offer creative—and comprehensive—ways to get money or offers as a reward for using your credit card. Some rewards cards will offer different "points" values depending on the type of shopping you do. For instance, you may get 3 points back for gas station purchases and 2 points back at restaurants. Other cards offer flat rates of return or cashback that can be applied to purchases or sent as a check in the mail. The downfall of rewards cards is that they are more likely to have annual fees. However, most of these fees make up for the range of benefits cardholders receive in return.
With the USALLIANCE Visa Signature Credit Card, members earn 3% cash back on every dollar they spend - with no category restrictions, no limit on the cash back that can be earned, and no annual fee! This makes the USALLAINCE Visa Signature Card "in league with some of the best flat-rate cash back cards on the market" according to CreditCards.com
you should consider a rewards-based credit card if you like the idea of earning a little back toward something you love, be it travel, new tech, or just dollar bills. It's great to watch that little nest egg grow as you go about your everyday spending. Rewards-based credit cards are generally available to applicants with good or better credit only. On par, they carry interest rates on purchases between secured and unsecured credit card rates. If you are in the market for a rewards-based credit card, keep an eye out for annual membership fees or penalty APR interest rates—many have both.
USALLIANCE's Visa Signature Credit Card has no annual fee, no penalty APRs, and cardholders earn 3 points back for EVERY dollar they spend – on ALL purchases! Gas stations, grocery stores, restaurants, and more. So members get rewarded with every swipe! USALLIANCE Visa Signature cardholders also have access to great perks on travel purchases, special event access, and even purchase protection.
What Are Standard Credit Cards?
Maybe you don't have the time—or the inclination—to optimize cashback points with each purchase. Or perhaps you just don't like to pay fees. If the most important feature to you is low-interest rates—those that charge you less to carry a balance month over month - then you are in the market for an old-fashioned, standard credit card.
The best standard credit cards don't charge an annual fee to use, have extremely low-interest rates, and have great balance transfer offers in rotation throughout the year. USALLIANCE's Visa Classic Credit Card offers everyday interest rates of 8.74 percent*— 40 percent lower than the national average. There are no annual fees at USALLIANCE, and the Credit Union always maintains low balance transfer fees.
What Are Secured Credit Cards?
Secured credit cards are perfect for people who are just beginning to build—or rebuild—their credit. If your credit score is too low to qualify for a standard unsecured or rewards-based credit card, you can apply for a secured credit card.
Here's how secured credit cards work:
First, you put down a security deposit—usually equal to your requested line of credit
Then, you use your secured card just like a regular credit card—making purchases and paying them off cyclically
The issuer of your card holds onto your security deposit in case you can't pay off your debt
However, as you pay off your debt, the issuer reports your payments to the credit bureaus, and your credit score goes up
Eventually, you get your deposit back after you close your account or when your credit is good enough to upgrade out of a secured account
If your credit is too low to qualify for an unsecured credit card, these are great options—but you must be able to pay the security deposit upfront.USALLIANCE offers a secured Visa card with security deposits starting as low as $250.
Picking the Right Card
You should consider your credit score, the type of card you need, and your before applying for any credit cards.
If you are a student or young adult building credit for the first time, you may need to consider a secured credit-building option.
If you are looking for a great balance transfer rate to pay off debt or a low-interest rate card, a standard unsecured credit card is the best option for you.
If you want to get rewarded for using your card, plus enjoy additional benefits for swiping, a rewards card is a great option for you.
Be mindful of fees and interest—try to keep both as low as possible while staying eligible for the perks you want. Always try to pay your bill each month—especially if you are trying to build credit—to keep away any late fees.
Great Features Are Available With All USALLIANCE Credit Cards
From the Visa Signature to the Visa Secured, every USALLIANCE card comes with many great features, such as:
24/7 fraud protection tracking to keep an eye out for unusual activity
Text or email account alerts to help you better manage your credit account
Mobile banking app access, with free monthly credit score access
Extended warranty coverage
1National Average as of May 1, 2019. Source: CreditCards.com.