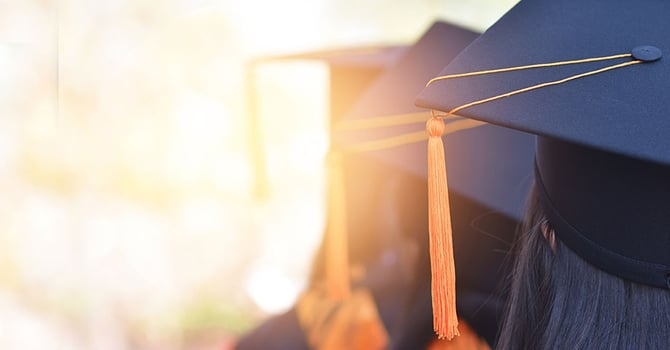 College graduation marks the end of one chapter and the beginning of another. No more shoebox-size dorm rooms, awful part-time jobs, or begging your parents for money (hopefully). Now it's time for your first full-time job and big-time paycheck.
Managing money on your own can be a tricky task, but these six tips can help recent grads master the basics.
1.

Start a budget
Creating and budget and sticking to it is the first step to managing your finances. There are a variety of ways to track your spending, account balances, and credit such as free personal finance apps, excel spreadsheets, or even the old school version of writing it down on loose-leaf. The most important thing is to figure out which strategy works best for you – and stick to it!
2.

Evaluate your accounts
Student accounts and credit cards offer great benefits, such as waived ATM and monthly service fees. Some of those perks may disappear once you graduate – since you are no longer a student. But, don't fret – this is an ideal time to review your checking, savings account, and credit card options!
Most financial institutions offer a variety of different accounts based on your every need, so try to find one that will maximize the return on your money and look for ways to minimize fees. Learn which accounts are right for you with USALLIANCE Financial.
3. Stay on top of student loans
Nearly 70 percent of college graduates have student loan debt, and those who take out loans owe an average of $28,950, according to an annual report by the Institute for College Access and Success. Understanding what you owe, whom you owe it to, and what your repayment options are can help make paying off your loans seem a tad less daunting. The National Student Loan Data System is an easy way to view all of your federal student loans. These loans have multiple repayment options, many of which are income-based. Private lenders set their own repayment terms, so it's best to contact each lender to review your balance and repayment choices.
Be sure to set up automatic payments through your bank or the loan servicer to help ensure you'll never miss a due date.
4.

Pay your bills on time
It is essential to keep track of all your expenses and make your monthly payments on time, to avoid late fees and damaging your credit score. The best way to not fall behind on your payments is by scheduling automatic payments through your financial institution or by setting calendar reminders of any and all upcoming due dates.
5. Start saving for retirement
Full-time employment can come with a lot of benefits. One in particular that many employers offer is a 401(k) plan, better known as a retirement account.
While you may be asking yourself why you need to start saving for retirement since you just graduated college, it's a great benefit that you should take advantage of - as soon as possible. Some companies will even match a portion of the money you set aside into the account, contributing money toward your retirement. And since it's a pretax plan, putting money in reduces the amount you're taxed on each paycheck.
A 401(k) isn't your only option, though, Traditional and Roth IRAs also come with tax benefits. Start saving now, even just a small percentage, and the money you set aside will build upon itself over time.
6. Use credit wisely
A good credit score can save you thousands of dollars in interest on mortgages and auto loans. One way to build your score is by opening a credit card. Most recent college grads don't have much credit history, so it's best to start sooner rather than later.
Look for credit cards with no fees and low-interest rates. Additional rewards such as airline miles or cash back are also a nice bonus. Be sure to look at welcome offers as well, to make sure you are getting the best deal. Once you find a card you'd like to apply for – Apply! Avoid applying for multiple cards at once, though, as this can harm your credit score.
If you open a credit card, try to use it only for essentials, and pay your balance in full each month to avoid interest charges. Failing to do so can also hurt your credit and your wallet in the long run.
Following these tips can prepare you for the big financial challenges ahead and help set you up for success in your 30s, 40s, and beyond.
© Copyright 2016 NerdWallet, Inc. All Rights Reserved