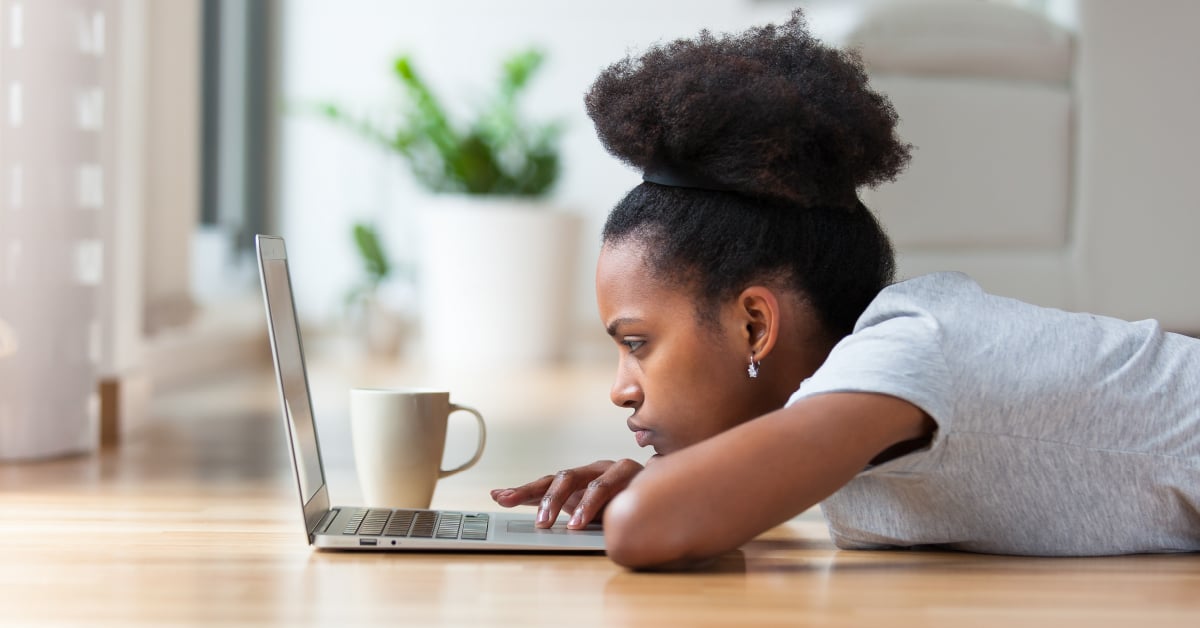 Cyber Monday: the Monday following Thanksgiving, notorious for irresistible online sales. Due to COVID-19, in-person shopping has declined while online shopping has been on the rise. This will result in millions of people logging online in search of the best deals on Monday. However, online retailers aren't the only ones who want your hard-earned money. Scammers and Spammers are out there too! They utilize a variety of tactics to trick consumers like you into giving themselves a nice payday. How can this be avoided? By being educated and aware while making online purchases. Here are 10 common Black Friday scams you'll want to avoid this holiday season:
1. Gone Phishing… in Your Email
Phishing is a cybercrime that scammers use to target consumers through email, text, and phone by posing as a legitimate website or business with the intent to steal your personal information. Scammers may send fake coupons, advertisements, and even false notices about your accounts. An example of a phishing email could ask you to update your payment information, update your password, or verify your address. These emails can look extremely legitimate, making it challenging to identify if it is a phishing attack.
The best way to avoid falling victim to a phishing attack is not to click any links within the email or text message. Instead, go directly to the trusted website. If there is any information update necessary, the verified website will notify you when you log in. Another way to avoid a phishing attack is to keep an eye on the sender details – The name, number, or email address you receive a message from may be suspicious-looking or misspelled. If you are apprehensive of an email or text, it is best to delete it right away.
2. The Fraudulent Website
One of the most popular Black Friday scams to date is the fraudulent website scam. Created by money-hungry hackers with the intent to steal your money and data, these websites are often copy-cats of existing eCommerce websites. Meaning, they look incredibly accurate. Hackers use fake domain names that are strikingly similar to the verified retail site.
Amazon.com, for example, is one of the world's biggest online retailers. In a study conducted by CheckPoint.com, the internet was home to more than 1,700 phony Amazon websites seeking to trick users into spending their money. Those 1,700+ websites could all look identical to the true Amazon.com. However, the domain name may have an extra letter or an added punctuation.
One of the best ways to verify a website is to double, and triple-check the domain name is spelled correctly. In addition, you'll need to be sure the website is secured. Secure web addresses begin with https:// while unsecured sites begin with http://.
3. The Bogus Business
A Bogus Business is a business that doesn't physically exist. Nowadays, anyone can create a Google, Instagram, or Facebook advertisement or page using stock photos or stolen content from a retailer. Typically, when a purchase is made through a "bogus business," you will never receive the products you ordered.
The best way to protect yourself from these fake companies is to verify the business itself. This can be as simple as doing a Google search of the business name. Often, retailers will have a Facebook Page, an Instagram Page, and a website full of reviews. If a company has little to no followers, likes, or reviews, chances are the business is not real.
4. The Too-Good-to-be-True-Deals
While there are great deals out there on Cyber Monday, some are a tad too-good-to-be-true. One of the most popular online scams are the deals that don't make sense. These specials are frequently shown in the form of advertisements posted on social media or littered throughout your email. They prompt you to "CLICK HERE" con the realistic-looking ad that will direct you to the fake website. An example of this is $100 Ray-ban sunglasses for $19.99. Sure 80% off sounds great, but is it too-good-to-be-true? Most likely.
The best way to avoid this scam is to NOT click on the advertisements themselves. Instead, visit the verified retailers' website directly to find the best, legitimate deals on the products you love.
5. The Imaginary Event Ticket Sale
Another Cyber Monday scam to be aware of is the ticket sale to an imaginary event. While this year, the false ticket scam may appear less due to COVID-19 restrictions and guidelines, it is still out there. This scam promises tickets to events that are entirely made up.
The best way to avoid this is to go directly to the performer, show, or venue's website and verify whether the event is legitimate. Also, several venues and verified ticket sale websites have customer service contact numbers you could use to verify an event's validity.
6. The Gift Card Sham
Gift Cards can be an excellent gift for those who are challenging to shop for. Keep an eye out for discounted gift cards that are too extraordinary to be true. It is possible these gift cards could be stolen from their rightful owners or not be worth as much as advertised.
The best way to avoid a gift card scam is to only purchase and use gift cards with a valid retailer or retailers' website.
7. The Fictitious Advertisements
As previously stated, anyone can create a Facebook, Google, or even an email advertisement, not just a company! Be wary of any advertisement that promises incredible savings or looks a bit overdone. Companies pay a lot of money for professional-looking advertisements. If you see any that look suspicious, it is imperative to not click on them.
Instead, visit the established retail website to see if the sale is authentic. If you see any suspicious advertisements, you can report them directly to Facebook, Instagram, or Google.
8. The Fabricated "Secret Sister" Pyramid Scheme
A scam that originated in 2015 continues to circulate social media in 2020. The "Secret Sister" gift exchange is an online version of the typical holiday game, Secret Santa. The "secret sister" social media post prompts people to purchase a gift worth $10 and send it to a randomly selected giftee. Somebody will then pay the favor back to you. You are "guaranteed" to receive between 6-36 gifts. According to the Better Business Bureau, the Secret Sister gift exchange is actually an illegal pyramid scheme.
The favor isn't always paid back. You may receive nothing in exchange for the $10 gift you gave away to a stranger. Along with this, you are also sending your personal information, including your name and address, to a complete stranger. This information could then be used for identity fraud.
The best way to avoid this scam is not to believe everything you see on social media! While the secret sister gift exchange idea is kind, some people's intent is not as kind.
9. The Credit Card Hoax
Credit card skimming doesn't only happen at gas stations or physical ATM's, hackers have gone digital by planting malicious code into retail sites designed to collect your information. It may be difficult to decipher if hackers have compromised a retail website.
One of the best ways to tell if a website has been compromised is to pay close attention to the site itself. When Hackers mess with the coding on the back end of a website, the user interface could look slightly altered. This could appear in the form of a glitch, misspellings, or a confusing layout.
A few of the best ways to protect yourself against this kind of attack is to enable purchase alerts on all of your debit and credit cards. This will notify you any time a purchase is made on your card. If your information is stolen from a compromised site and used elsewhere, you will be notified immediately. Another tip is to not save any personal information or card information to a website. Again, if the site is compromised, you don't want hackers to access the data you saved within the website.
10. The Counterfeit Contest
Also known as the bait and switch method, counterfeit contests could appear in your email or as a pop up in your browser. An example of this is an email claiming that "you are the lucky winner of a brand-new iPhone 12!" All you need to do is enter your personal information, or better yet, you ONLY need to pay for shipping. These false sweepstakes are used as bait to encourage users to enter as much information as possible. Once data is collected, a hacker could steal your identity or funds.
What to do? Be wary of any browser pop-ups or emails notifying you about winning a contest that you never entered. Delete them immediately.
---
USALLIANCE Financial wants you and your finances to be safe when surfing the web this Cyber Monday! Make sure your funds are safe by only shopping on secure, verified sites. For more information on how to keep your personal information safe and secure, check out our blog! Happy Shopping!