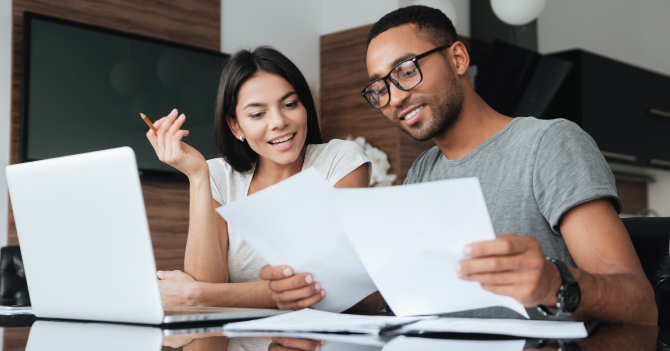 Checking accounts offer a secure, accessible place to store funds. If you are considering opening a checking account at a bank or credit union (or already have one) here's what you need to know about this account's benefits and how to best manage it.
Easy access to your funds
Checking accounts offer easily accessible funds. You can withdraw your funds at your bank or credit union, get cash from an ATM, or transfer funds to another account. You can also use a debit card to pay for purchases with funds from the account. Finally, you can write a paper check, and the written amount will be withdrawn from your checking account when the check is deposited. This ease of access makes your checking account the ideal place to keep funds for everyday expenses.
Minimal balance requirements
In contrast to other types of financial accounts, checking accounts tend to have very low minimum balance requirements, and sometimes none at all. Often, you'll only need to meet this requirement when opening your account. You can open a checking account at many institutions with as little as $25 – but at USALLIANCE, you can open a checking account with no minimum balance requirements!
Low or no maintenance fees
Here's where checking accounts at banks and credit unions differ. It is common for banks to charge a monthly maintenance fee for checking accounts, sometimes as high as $30 a month. However, if you open a checking account at a credit union, you generally don't have to worry about steep fees. USALLIANCE checking accounts have no monthly maintenance fees!
Easy bill-pay
Checking accounts take the stress out of paying bills. Most financial institutions now offer a mobile banking app and website where you can pay your credit card, utility, and service bills directly from your checking account. Alternatively, you can have the balance automatically withdrawn from your account when the bill comes due each month. With the convenience of a bill-pay through your checking account, you'll never miss a payment again.
Convenient account management
Managing your checking account is simple. Use your financial institution's mobile banking app or website to access your account, view your balance, deposit checks remotely, transfer funds to another account, and more. In addition, checking accounts help you track your spending by providing a record of all your transactions. When you use your debit card for everyday spending, you can easily review those purchases by checking your account history. Budgeting just got easy!
Special promotions and sign-on benefits
Many financial institutions offer special promotions and benefits for both new and existing members when they open a checking account. Many checking accounts offer a complimentary order of checks when you open the account, and others provide a debit card preloaded with up to $200 in cash.
Security
Funds kept in a checking account at a bank are federally insured by the FDIC for up to $250,000. Credit unions feature similar protection, with all federal credit unions offering government protection through the National Credit Union Association (NCUA). The NCUA insures USALLIANCE to offer protection for your funds and the peace of mind that comes from knowing your savings are secure.
Managing your checking account
Managing a checking account is easy as 1-2-3:
Know your balance at all times to avoid an overdrawn account.
Set up automatic bill payments through your checking account so you never miss a payment. Also consider automatic monthly transfers from your checking account to savings to start building up your funds.
Always keep your account funded with one to two months' worth of living expenses. This way, you'll always have enough funds to cover your transactions.