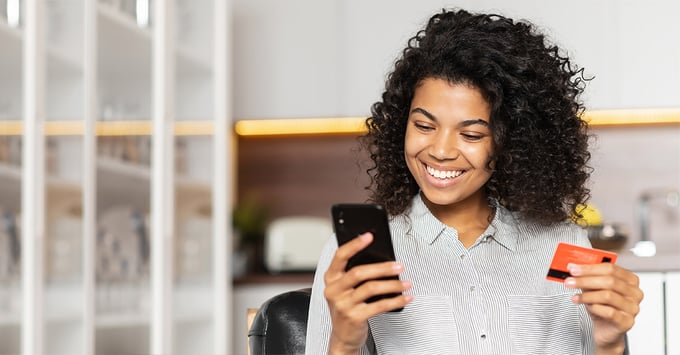 Opening a USALLIANCE Financial MyLife Checking for Teens account is a simple way to teach financial responsibility and money management skills to your teenager. With a teen account, you can monitor purchases and limit your child's daily spending—giving them just the right amount of freedom.
They feel more independent. You don't get asked for money all day. Now that's a win-win!
Why Should I Open a MyLife Checking for Teens Account?
At USALLIANCE, we're committed to providing exceptional service to all our members—no matter how old they are or how much money they have in their account. Our MyLife Checking for Teen account holders have access to innovative products, easy-to-use tools, and the personal support they need to learn financial independence in a fun and safe way. Here are some of the great features that come with a USALLIANCE MyLife Teen Checking account:
Free VISA Debit Card—with Guardrails
Your teen has the option to receive a debit card, available to use for purchases anywhere VISA© Is accepted. Each debit card includes no-fee access to cash at more than 30,000 ATMs nationwide—with a $200 daily withdrawal limit, of course! Not ready to hand them the reins of a debit card? Opt for an ATM Card for your child, where they can withdraw funds up to $200 from 30,000+ shared ATM's across the nation through our shared Co-Op program!
They Learn Money Management. You Retain Control
With a MyLife Teen Checking account, Sponsors can view and manage the teen's account through their own independent login. Sponsors can also link overdraft protection from their own USALLIANCE account.
Safe & Secure Banking on the Go
MyLife Teen Checking account holders have access to the innovative USALLIANCE mobile app with all the great convenience and security features—including eStatements, quick balance access without logging in, and instant check deposit—at no extra cost.
Direct Deposit
Flipping burgers, pouring lattes, mowing lawns—no matter where your teen's paycheck comes from, they can deposit it directly into a MyLife Checking for Teens account.
No Fees, No Minimum Balances, No Nonsense
All it takes to open a teen checking account at USALLIANCE is $1 and your permission. There are no maintenance fees or minimum balance requirements. Teens ages 13–17 will need an adult sponsor/account co-owner, and becoming a member is easy!
Why a Teen Checking Account is a Great Idea
Financial responsibility is one of the most important lessons you can teach your teen, and there's no better way to start than having them manage their own checking account. Learning how to save for short- and long-term goals is rewarding and will teach them smart financial decision-making as they go to college and start careers.
With a USALLIANCE account, your teen will learn how to balance a budget, use a debit card, and write a check. A recent study shows teenage students scored on average 42 points higher on financial literacy tests when they owned their own bank accounts. That's a lot of late fees and interest-only payments avoided!
And let's face it—impulse buys happen! The best way for your teen to first learn about overdrafts, bounced checks, and negative balances is by managing their own account—with automatic ATM withdrawal limits, and your guidance. The best checking accounts for teens have parental control features and a separate guardian login. With the USALLIANCE MyLife Teen Checking account, you can turn your teen's spending splurges into teachable moments.
According to a 2020 survey, bad money management decisions cost each adult American close to $1,700 in 2020—that's approximately $415 billion across the country! Starting young is the best way to establish financial health and avoid costly mistakes down the line. Open up a free teen checking account with USALLIANCE Financial and put help your teenager on the right financial path for life.
And then go ahead and pat yourself on the back! Your job is done here.