---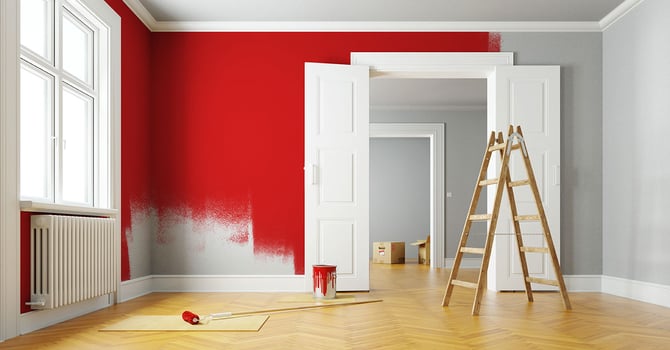 You don't necessarily need to break the bank to raise your property value.
There are a lot of things you can do to upgrade the value of your home before you make a move, and it's true that even a small investment can make a major difference.
Whether your home could use some minor changes or you're considering a HELOC to make a big upgrade, there are a lot of different things you can do to make the space more appealing to potential homebuyers. So, if you're thinking about selling or renting your home, read this list before you start packing up and moving out.
1. Clean up and simplify.
Have you ever helped a friend or relative move and realized you were moving a bunch of their junk? Let's face it- you've probably accumulated a lot of things you don't need over the years. Get rid of your extra clutter- whether you donate your useful extras to charity, host a yard sale to make a few extra bucks, or get a dumpster and toss the things you don't need. Not only will this make your home more aesthetically pleasing to potential homebuyers during showings, but it will also create additional square footage (at least visually).
2. Get a fresh coat of paint.
I've witnessed a, let's say less-than-impressive apartment in a college town, become move-in ready for new tenants in a matter of hours- from nothing more than a good cleaning and some freshly painted walls. You just can't underestimate the power of a fresh coat of paint. It's an easy, fairly quick, and affordable way to make your space look more put together, and it can really change the perspective a potential homebuyer has when they look at your home.
3. Spruce up the yard.
They say don't judge a book by it's cover, but in this case it's better not to risk it. If a potential homebuyer cruises up to your home and doesn't like the looks of the outside, there's a good chance they'll just keep driving. Keep the grass watered, plant some perennials, and trim up the shrubbery. It doesn't have to be high maintenance, but it does have to look good.
4. Install energy-efficient utilities.
This one can get pricey, but the switch is worth it. A low electricity bill is a big selling point, and it definitely doesn't hurt to help the environment. The government actually is providing tax credits as an incentive for those who make the switch to more energy efficient homes, so this could be a great investment for both your home and your wallet. Upgrades that qualify for tax credit in 2016 include central air conditioning, insulation, solar energy systems, and biomass stoves- but of course, check with a tax specialist for more information.
5. Consider kitchen updates.
You don't have to watch an episode of House Hunters to know that a nice kitchen is on everyone's must-have list. New kitchen cabinets, a long-awaited appliance upgrade, or even installing new shelving can give your kitchen the modern look and convenience that homebuyers long to find.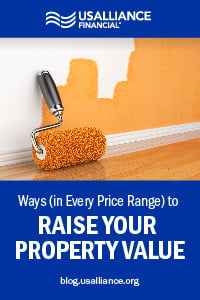 ---

There is a home upgrade for every price range.
There are lots of options for anyone looking to raise their property value. And when you're ready to buy, keep in mind that mortgage rates are at an all time low at USALLIANCE.
---