USALLIANCE Financial is celebrating their 50th anniversary in 2016.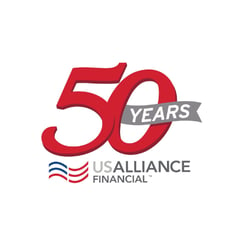 The world was a different place in 1966- back when you could buy a new car for $2,000 and The Beatles were all the rage.
What was life like in 1966?
Star Trek, the iconic sci-fi TV series premiered on NBC on September 8, 1966. Also premiering in 1966 was Batman, Mission Impossible, That Girl, and The Monkees.

Can you believe the Super Bowl is 50? The Green Bay Packers and the Kansas City Chiefs played in Super Bowl I- then known as the AFL-NFL Championship Game. The Packers won by a score of 35 to 10.

Who won the World Series in 1966? The Baltimore Orioles swept the Los Angeles Dodgers in four games.

Many celebrities who were born in 1966 are turning 50 this year, including:

Patrick Dempsey (Jan 13)
Cindy Crawford (Feb 20)
Robin Wright (Apr 8)
Janet Jackson (May 16)
John Cusack (June 28)
Mike Tyson (June 30)
Halle Berry (Aug 14)
Adam Sandler (Sept 9)
David Schwimmer (Nov 2)
Kiefer Sutherland (Dec 21)

What was the best picture of 1966? A Man for All Seasons. The best actor nod went to Paul Scofield and the best actress was Elizabeth Taylor.

Actor Ronald Regan was elected governor of California.

Miranda Rights came into being when the Supreme Court ruled that police must inform suspects of their rights before questioning them.

The Freedom of Information Act was passed by Congress.

Edward Brooke became the first African American popularly elected to the U.S. Senate. What state did he represent? Massachusetts.

And, the Metropolitan Opera House opened in New York City on September 16, 1966.
And one last fun fact...
But why is 50 years considered a golden anniversary? During the times of the Holy Roman Empire, husbands crowned their wives with a golden wreath on their 50th anniversary.