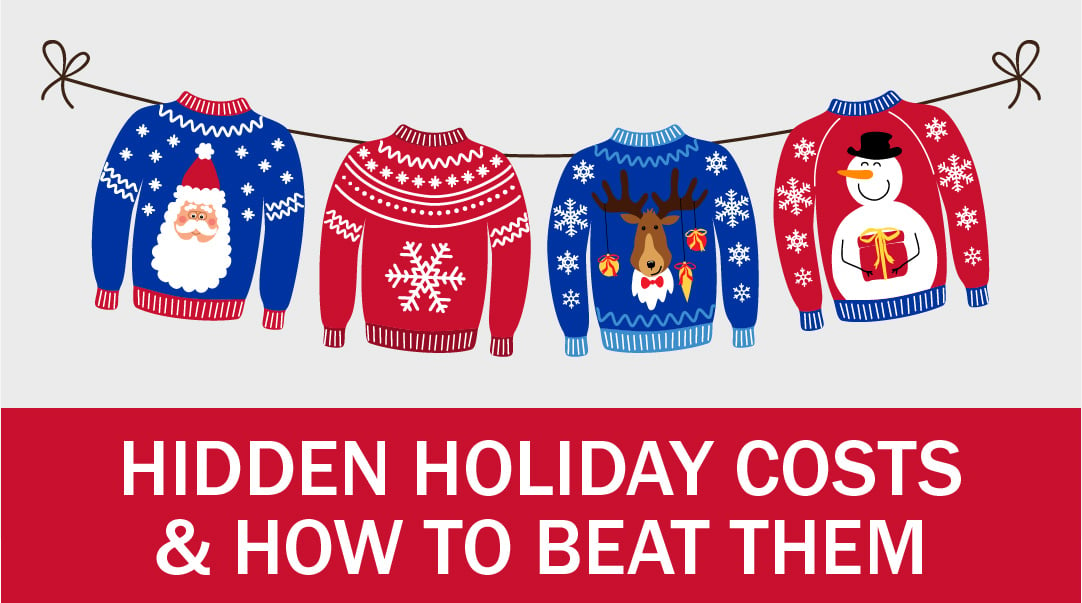 You already know about the gifts and decorations. Here are some holiday expenses you may have not included in your budget this year, along with creative ways to beat them.

ELECTRICITY

All those twinkling lights can cost a pretty penny—or more than an extra $50 on your electric bill.

SAVE BIG

By switching your lights to LEDs. LED lights consume 80 percent less energy than incandescent lights, meaning a lower electricity bill.

Also consider leaving your holiday lights on for only a few hours per day rather than all night!

INTEREST ON CREDIT CARDS

Many shoppers charge all of their holiday expenses to credit cards, leaving them paying much more due to high interest rates.

SAVE BIG

By sticking to debit cards and cash. If you must use a credit card, be sure to pay your bill before it starts accruing interest!

In addition, if you must use a credit card, look for one with an everyday low rate such as our USALLIANCE Visa Classic Card!

LAST-MINUTE GIFTS

Who has time to shop for bargains when it's two days before Christmas and you've only just remembered about your boss's kids?

SAVE BIG

By skipping all non-essential gifts.

Also consider homemade gifts or re-gifting presents you've never used!

There are several ways to show you care over the holidays and a big, expensive gift does not need to be one of them!

EATING OUT

Last-minute holiday prep got you too busy to cook? You might be spending more than you realize on takeout food this month.

SAVE BIG

By cooking and freezing a few meals ahead of time for those crazy, hectic, pre-holiday evenings. If you can't hack it without buying dinner a few times this month, consider purchasing an entree only and then adding your own sides and beverages at home.

WRAPPING PAPER

It all ends up in the garbage, but did you know that wrapping paper for gifts can cost close to $100?

SAVE BIG

By purchasing next year's wrapping paper in January. It won't go bad and you'll be ahead of your holiday expenses almost a full year in advance.