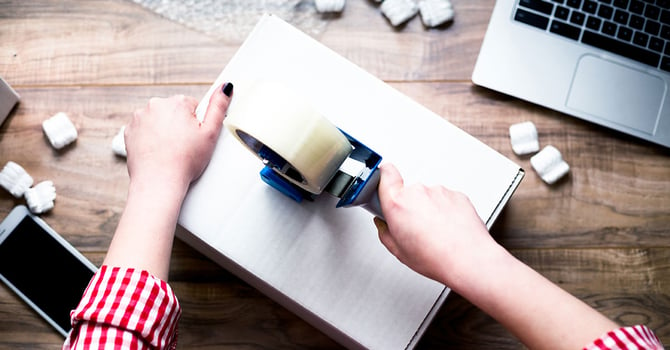 When the weather starts to warm and the spring flowers bloom, it's time to crack open the windows, let the fresh air in, and give your home a good spring cleaning. But there's more than just a neat house awaiting you after you banish those dust bunnies. Think about decluttering while you're at it, and you could even earn a few extra bucks.
Here's how you can spring clean your way to riches – well, sort of.

Trade in old electronics
Gather all the old gadgets and devices you no longer use. Bring them to your local electronics store – it's likely they'll offer you a few dollars or even a gift card for your treasures. Some larger chain stores, like Best Buy, even offer trade-in and recycling programs to help you responsibly dispose of your old electronics. If they'll take it on trade, you'll earn a gift card that can help you save money on your next purchase.
Consign your clothing
Instead of filling your local dumpster, bring your old clothing to the neighborhood consignment shop and see what they're willing to take. When you consign something like clothes, you bring your items to the shop and the owner will decide how much they can sell it for. Once the value is decided, your items are put on their shelves for consumers to buy. After the item is sold, you and the shop owner will get a pre-determined portion of the profit. With consignment, you want to make sure you choose your higher quality or "brand name" clothing pieces. Many shops are very particular about the stock that they carry. Don't have a consignment shop near you? Online consignment shops like ThredUp, Tradesy or Poshmark could be a good option.
Trade in your video games
If you've got a serious gamer at home who always needs the latest and greatest, consider trading in your old games at GameStop (usually found in your local shopping mall). You'll get a store credit that will help support this relatively costly habit, and you'll get rid of that huge pile of video games at the same time!
Sell old books
Books take up lots of room, and if no one's reading them, why not get rid of them for good? Websites like BookScouter, Cash4Books, and even Amazon are great places to start if you're looking to make a few extra bucks by selling books and old textbooks. You can also head to your local used bookstore and speak with the owner about the value of your books.
Sell your expensive electronics
If you've got some older smartphones or laptops that are in decent condition, they should be able to fetch you a fair amount. Try selling your stuff on Gazelle.com. They offer free shipping, and once the company officially logs your item, you'll get paid via check, gift card, or PayPal. If you're not in any particular rush, websites like eBay, Craigslist, and even Facebook Marketplace are great options as well.
Get cash for unused gift cards
Do you have a pile of gift cards you will never use? It's time to get rid of the whole lot – and make some money on the side! There are loads of sites that offer gift-card exchange services, and though you may not make back the full amount, you'll usually land a decent offer. Besides, if these cards were originally given to you as gifts, any money you make off of them is profit.
Try your luck with your gift cards at sites like Cardpool to fatten up your wallet with actual cash instead of those cards you probably won't get around to using.
Donate to charity
Donating unused clothing, toys, or electronics to charity might be the easiest way to get rid of clutter. You'll be helping out a worthwhile cause and making someone else happy with your belongings. As an added bonus, donating goods to charity can earn you a tax deduction, so long as you keep your receipt. Thrift shop chains like Goodwill and The Salvation Army will happily accept clothing that's in decent condition, all kinds of housewares, used furniture, toys, gadgets and more. You'll be making someone else's day and maybe even earning a tax break at the same time.