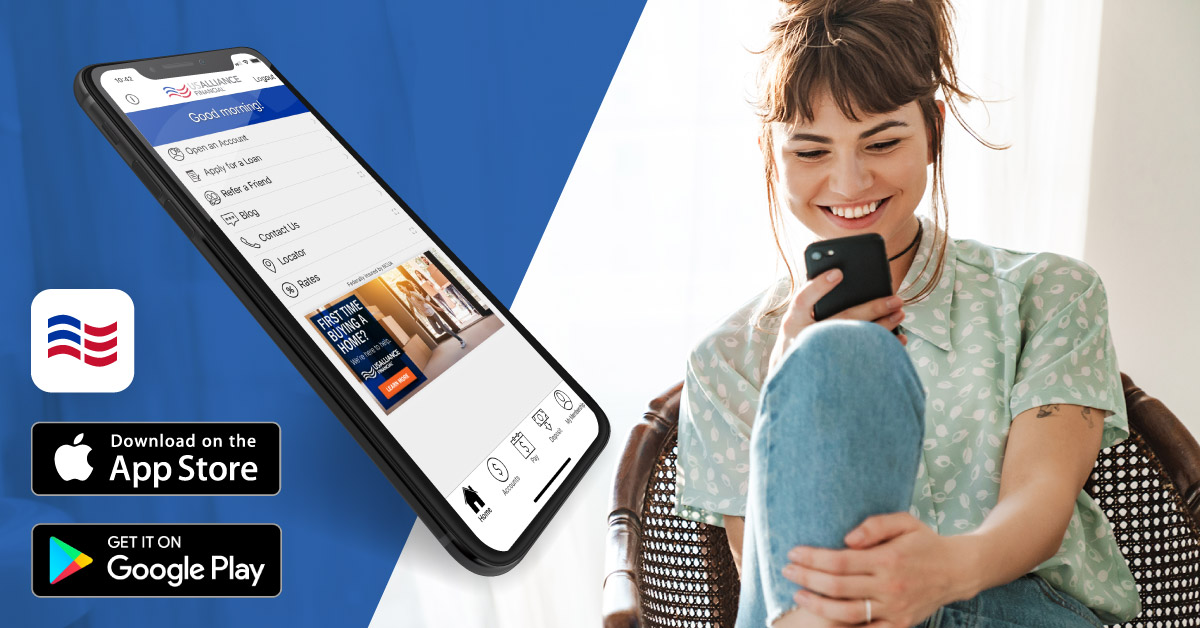 Like the rest of the rapidly evolving world, the banking industry has evolved to include mobile and online applications, giving members access their accounts whenever and wherever they may go!
Available on the App Store and Google Play Store, USALLIANCE FCU mobile banking app gives members access to all of their banking needs at the touch of their fingertips. Become a member, manage your accounts, pay bills and people, deposit checks, transfer money and more – all from a safe and secure banking app in the palm of your hand!
Why should you enroll in mobile banking? Easy:
Bank Anywhere, Anytime.
With the Mobile Banking app, you don't need to worry about branch hours or locations. With a few taps, you can be immersed into the mobile banking world. You can manage accounts, view transaction history, and even pay bills without disrupting your daily routine. Whether you're travelling somewhere new or visiting somewhere old, the mobile banking application can address all your banking needs right from your phone.
Depositing checks has never been so easy.
With the mobile banking app, you can deposit your checks instantly! All you have to do is take a photo of your endorsed check and click submit! You'll then have access to all of your funds right from your phone. From there, you can make transfers to other accounts or institutions, manage accounts, and even schedule bill or loan payment directly in the app.
Go Paperless.
The mobile banking app allows you to manage all your accounts and transactions directly through the application, requiring no paper documents. Don't wait a week for important notifications regarding your account to arrive in the mail. With the mobile app, you receive customized notifications regarding your account in an instant without the hassle of hard copy documents.
Mobile Banking is Safe & Secure.
At USALLIANCE Financial it is our mission to give our members the best banking experience possible. With our mobile banking application, your information is safe and secured. All information shared between your mobile device and our banking institution is encrypted. Protecting your privacy is of the highest priority for our members. Each time you open your mobile banking app we require an easy, fast, and secure login that is compatible with Touch ID and Face ID.
Additionally, if you lose or suspect fraudulent activity on your debit or credit card, you can freeze, unfreeze, report stolen, or request a new one directly through the application as well.
Say goodbye to fees for good!
There are no monthly maintenance fees for having an account with us, there are no hidden fees within our mobile banking application, and as a part of the Co-Op Network, when you bank with us you will have access to nearly 30,000 surcharge free ATM's across the nation! Enjoy fee-less mobile banking with us today.
An experience that never stops growing.
We are constantly striving to bring the newest and greatest innovations to our mobile banking app. We stay up to date on new-features and conduct updates on a regular basis to ensure that you have all of the tools possible to make your mobile banking experience the best it can be.
Mobile banking allows you to manage your banking right from the palm of your hands.
Download the mobile banking app today!